Model No: SC-4B
SC-4B Stainless steel wine cooling dispenser
Product Detail
Product Tags
Being isolated by Nitrogen gas , red wine ,fresh way of any election.
Powerful refrigeration ,cooling temperature as you like(7C°-18C°)
Vacuum double –deck glass door
Keep wine fresh system to use the inert gas ,cause the red wine not send out ,in the air impurity and the red isolation ,keep the red wine fresh, original taste ,keep the original red wine flavor .keep fresh and cold for open red wine
Argon, Nitrogen preservation of red wine for 30days
Free discharge ,fixed discharge 20ml ,40ml .60ml .80ml,fixed discharge 1-99ml
Automatic cleaning.
Temperature be adjustable
Healthy, environmental without pollution ,beautiful design, easy to operate ,green environmental protection.
Rated voltage : 220V/50 Hz 110V/60Hz
Refrigerant : R134a /R600
Cooling power: 95W
Cooling temperature : 7℃-18℃
Preservation time: Argon, Nitrogen ,within 30days
Working ambient Temperature : 5℃-28℃
Product Size(mm): 430×415×625
Packing Size(mm): 470×460×640
Net weight(Kg): 29.0
Gross weight(Kg): 31.0
Wine Rhythm Professional Wine Cooler
Elegant and versatile appearance with exceptional taste
A refined look, made of wear-resistant, corrosion-resistant sheet metal sprayed with plastic.
Intelligent thermostat, precise temperature control
The new technology of electronic refrigeration technology, simulating the cellar environment, efficient temperature sensor, precise temperature control, noiseless, excellent refrigeration effect. 7°C-18°C temperature setting. Long-lasting protection for you
The freshness of the wine is guaranteed with care and attention to each bottle.
LED touch control, easy to understand
The simple touch panel design, without the traditional complicated control interface, allows you to see the temperature inside the cabinet at a glance. One-touch control of the temperature settings and the beginning of the day is easy to use.
Effective isolation from light and outside temperatures
Double hollow thickened tempered glass door, strong and durable, isolated from outside temperature and UV rays. Prevents light damage to the wine
The glass door is a strong and durable barrier against external temperature and UV rays.
Low noise and low energy consumption for fast cooling
The brand-name inverter compressor is used for refrigeration, and the working condition is quiet and close to 0 vibrations, giving the wine a stable environment in which it can slowly and naturally ferment and mature.
Nitrogen anaerobic long-lasting freshness for 30 days
The principle of nitrogen preservation is because nitrogen is an inert, anti-bacterial gas that It can inhibits the growth and reproduction of bacteria, thus slowing down the metabolic process of the storage cells This is the purpose of preserving freshness. At the same time, low-temperature refrigeration is fully effective in The low-temperature refrigeration is fully effective in killing and sterilizing the food, so that there is no need to worry about the bacteria The food is not damaged by bacteria.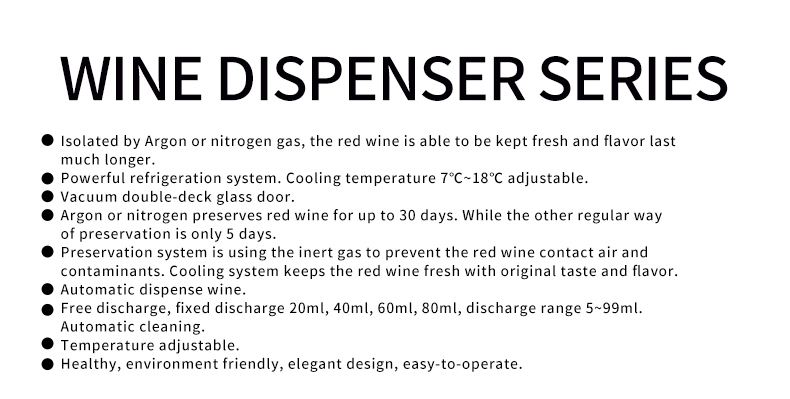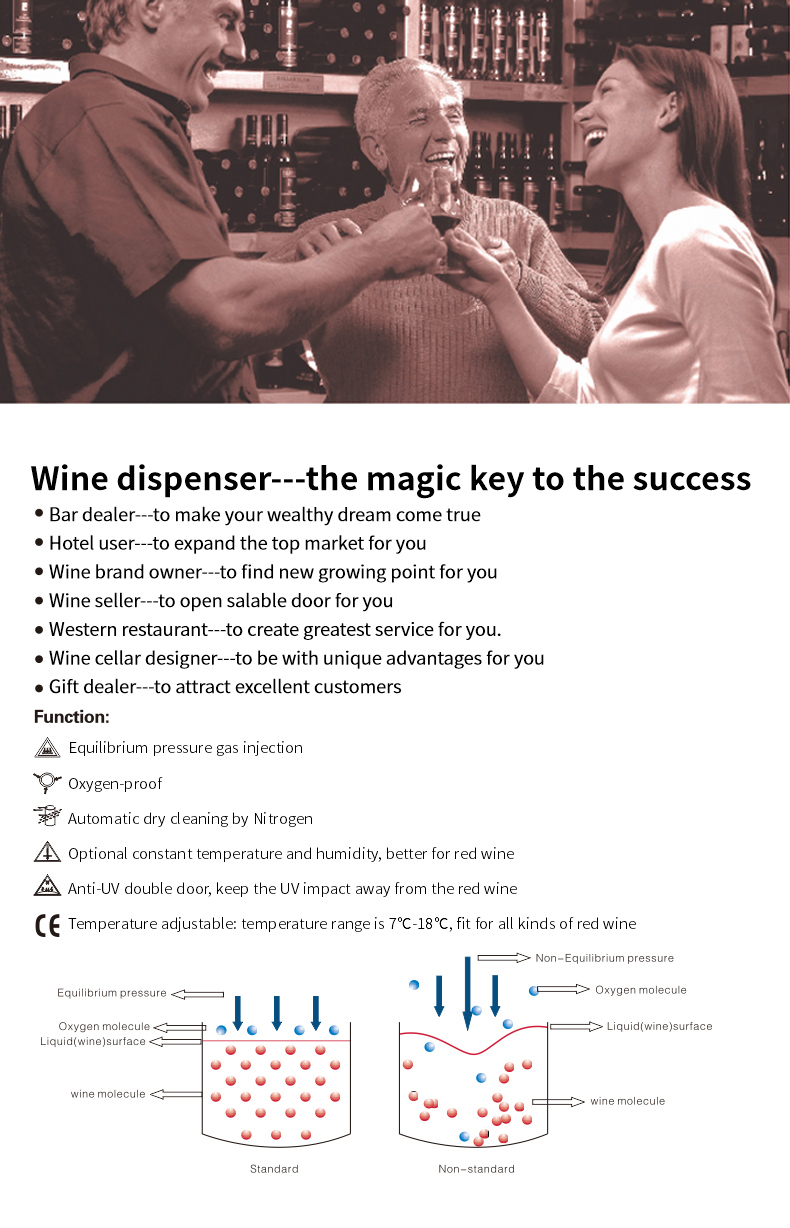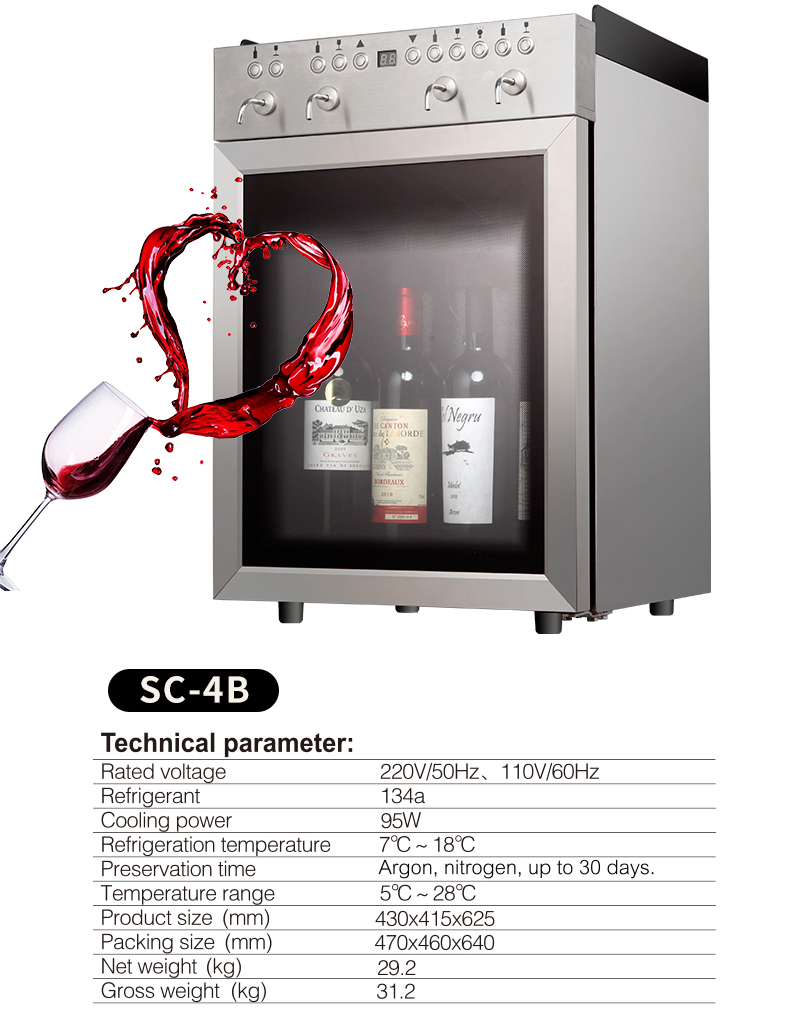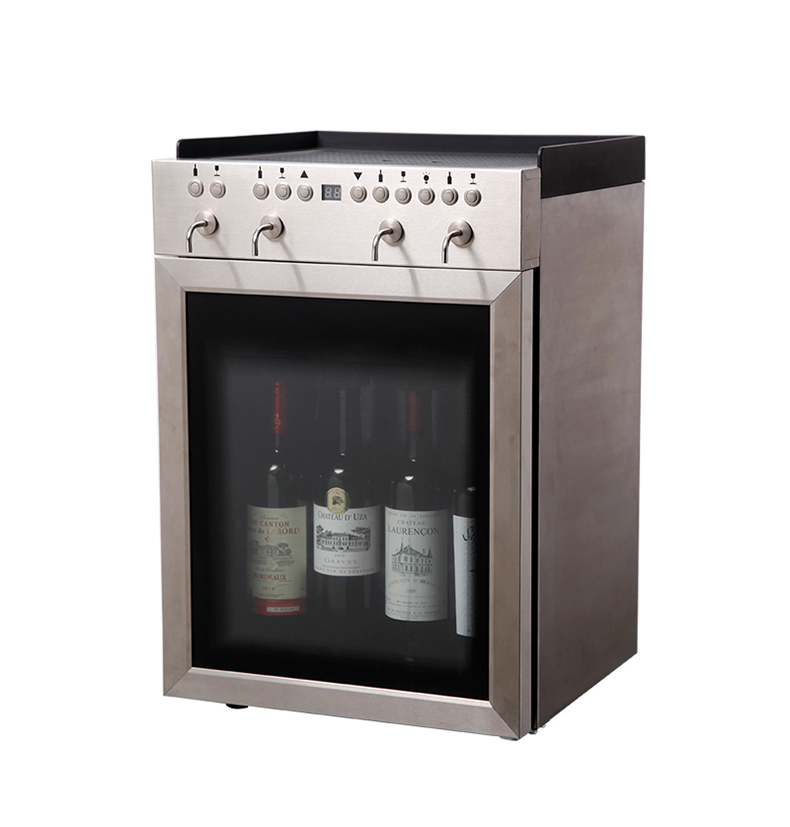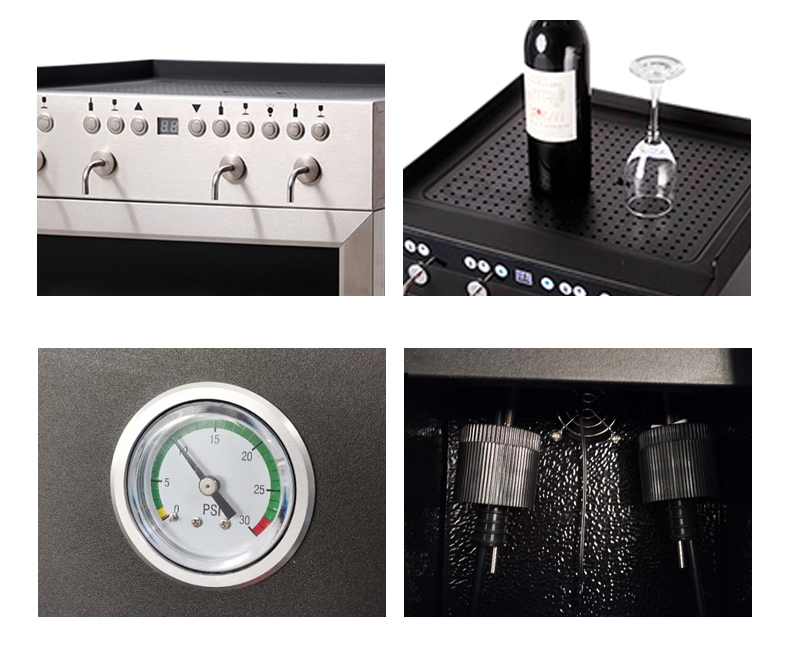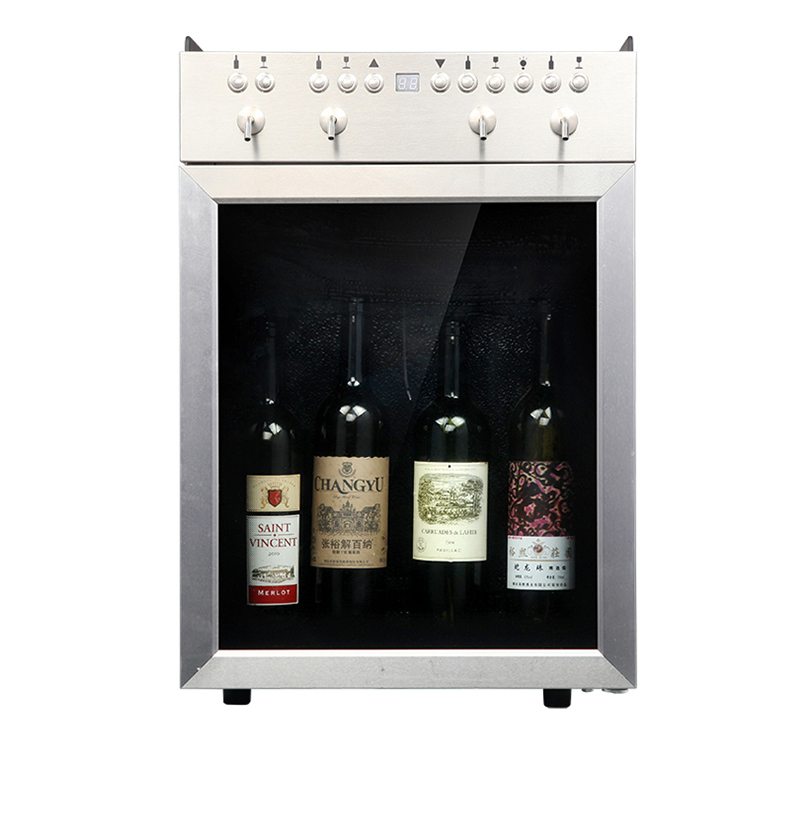 Wine dispenser---the magic key to the success
Bar dealer---to make your wealthy dream come true
Hotel user---to expand the top market for you
Wine seller---to open salable door for you
Wine brand businessman ---to find new growing point for you
Bar, western restaurant –to create greatest service for you .
Wine cellar designer---to be with unique advantages for you
Gift dealer---to attract excellent customers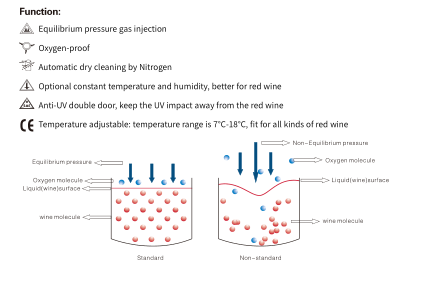 Equilibrium pressure gas injection
Shut the door on the oxygen
Automatically dry cleaning by the nitrogen
Optional constant temperature and humidity ,better for red wine
Anti-UV double door ,keep the UV damage away from the red wine
Freely temperature adjustment, optional temperature 7℃-18℃,good to all kinds of red wine .
Rated voltage : 220V/50 Hz 110V/60Hz
Refrigerant : R134a /R600
Cooling power: 95W
Preservation time: Argon, Nitrogen , within 30days
Temperature rang: 5℃-28℃
Product Size(mm): 430×415×625
Packing Size(mm): 470×460×640
Net weight(Kg): 29.0
Gross weight(Kg): 31.0
---
---