Model No: SC-2
SC-2 2 BOTTLE WINE DISPENSER FOR HOME
Product Detail
Product Tags
2 Bottle of wine dispenser color black
Equilibrium pressure gas injection
Powerful refrigeration ,cooling temperature as you like(7C°-18C°)
Nitrogen preservation of red wine for 30days,keep wine freshness
Being isolated by Argon or Nitrogen gas , red wine ,fresh way of any election also .
Keep fresh system to use the inert gas ,cause the red wine not send out ,in the air impurity and the red isolation ,keep the red wine fresh, original taste ,keep the original red wine flavor .keep fresh and cold for open red wine
Free discharge ,fixed discharge 20ml ,40ml .60ml .80ml,fixed discharge 1-99ml
Automatic washing for operate
Vacuum double –deck glass door
Temperature be adjustable
Healthy ,environmental without pollution ,beautiful design, easy to operate ,green environmental protection
For home and coffee use
Keep Wine cooling ,Keep Wine freshness ,Keepwine dispensing .
Suitable for restaurants ,wine cellar ,wine clubs and other place .
Rated voltage : 220V/50 Hz 110V/60Hz
Refrigerant : R134a /R600
Cooling power: 85W
Cooling temperature : 7℃-18℃
Preservation time: Argon, Nitrogen ,within 30days
Working ambient Temperature : 5℃-28℃
Product Size(mm): 420×235×527
Packing Size(mm): 445×290×545
Net weight(Kg): 18.1
Gross weight(Kg): 19.4
Wine dispenser---the magic key to the success
Bar dealer---to make your wealthy dream come true
Hotel user---to expand the top market for you
Wine brand businessman ---to find new growing point for you
Wine seller---to open salable door for you
Bar, western restaurant –to create greatest service for you .
Gift dealer---to attract excellent customers
Wine cellar designer---to be with unique advantages for you
1. 7°C to 18°C free set temperature Constant temperature hold;
2. with nitrogen generator
3. Compressor cooling, fast and effective;
4. Free setting of the quantity to be sold in ml;
5. keep the red wine freshness for 30days
Manufacturer: Edelweiss Electronic Technology
The Napa Fresh wine dispenser is designed to keep wine fresh for 30 days after opening, ensuring that the aroma and taste of the wine remains unchanged, as if it had been first opened.
We have always been committed to the four key points of static freshness, precise wine separation, residue-free cleaning and safety in use.
A revolution in the history of wine preservation, technology changes lives, fresh wine dispenser
Intelligent.  Freshness. Clean
Automatically dispensing wine when you want to drink it
Static freshness and intelligent wine dispensing
The wine molecules are static and anaerobic, keeping it fresh for 30 days!
Intelligent control
Control panel for quick and easy control of the wine dispenser
Bottle neck re-closure technology
Bottle closure technology for all bottle types and necks for easier bottle changes and greater practicality
Drinking temperature
7°C to 18°C, suitable for all wine regions and types
Air cooling cycle
Each wine has its own temperature, so that it is cooled more evenly and comprehensively.
High performance compressor
High performance compressor for strong cooling power, noise and vibration reduction design
A sound and vibration-reducing design for your wine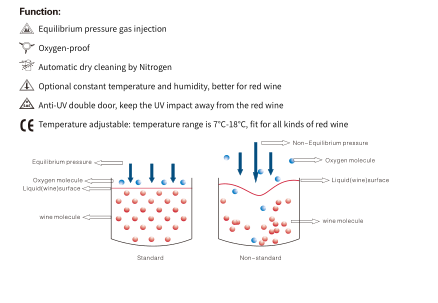 Equilibrium pressure gas injection
Shut the door on the oxygen
Automatically dry cleaning by the nitrogen
Optional constant temperature and humidity ,better for red wine
Anti-UV double door ,keep the UV damage away from the red wine
Freely temperature adjustment, optional temperature 7℃-18℃,good to all kinds of red wine .
---
---